Dell XPS 13 prices and specs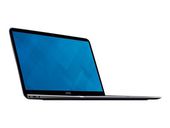 Processor
Intel Core i5 1.7 GHz
Graphics Card
Intel HD Graphics 4000
The XPS 13 is a 13 inch chromebook i.e. the computer has smaller dimensions and weight than the average computer. For today you can buy the XPS 13 in USA for $798.01
.

The Dell XPS 13 has a common for laptops 13 inch display size: it provides an optimal balance between having a rather big display size and still having not very big dimensions and weight. The screen provides average for laptops image quality. 1280x720 resolution is bad for convenient working at the computer and we advise to select the model with better resolution like Panasonic Toughbook 53.

The XPS 13 runs a rather fast Dual-Core Intel Core i5 (3rd Gen) 3317U CPU running at 1.7 GHz clock speed. As it has two cores it means that you will get better performance. To get really great performance it will be better to buy a laptop with Quad-Core CPU like HP Pavilion x360 13-a019wm.

The 8 GB of RAM is a common size that will handle running several applications at the same time.

The video card in this model is totally enough for video streaming and watching YouTube videos. But you will be able to run new games only at the lowest graphics settings.

This notebook has a 256 GB SSD which is a large size for these drives. Solid state drives (SSDs) are the fastest storage medium for now however they have a rather high price.


Processor & Chipset

Graphics Processor

display

RAM

Operating System

Audio & Video

Hard Drive

Notebook Camera

Miscellaneous

Dimensions & Weight

Input

battery

Communications

Connections & Expansion

AC Adapter
CPU

Max Turbo Speed

Number of Cores

Cache

64-bit Computing

Chipset Type

Features

Processor

Graphics Card

Diagonal Size

LCD Backlight Technology

Widescreen Display

Monitor Features

Type

Display Resolution Abbreviation

Memory Speed

Technology

Installed Size

OS Provided

Graphics Processor

Memory Allocation Technology

Integrated Webcam

Sound

Features

Type

Capacity

Integrated Webcam

Color

Case Material

Notebook Type

Width

Depth

Height

Weight

Type

Features

Backlight

Capacity

Cells

Technology

Wireless Protocol

Wireless Controller

Features

Interfaces

Output
Intel Core i5 (3rd Gen) 3317U / 1.7 GHz

2.6 GHz

Dual-Core

L3 - 3 MB

Yes

Mobile Intel QS67 Express

Intel Turbo Boost Technology 2.0

Intel Core i5 1.7 GHz

Intel HD Graphics 4000

13.3 in

WLED backlight

Yes

Corning Gorilla glass, edge-to-edge glass

LED

HD

1600 MHz

DDR3 SDRAM

8 GB

Windows 8

Intel HD Graphics 4000

Dynamic Video Memory Technology

Yes

Stereo speakers, two microphones

MaxxAudio 4

SSD

256 GB

Yes

silver

aluminum, carbon fiber

Ultrabook

12.4 in

8.1 in

0.7 in

3 lbs (1.36 kg, 48 oz)

keyboard, touchpad

multi-gesture touch pad, spill-resistant

Yes

47 Wh

6-cell

lithium polymer

802.11a/b/g/n, Bluetooth 3.0

Intel Centrino Advanced-N 6235

Intel Wireless Display (WiDi)

USB 3.0
PoweredUSB 2.0
Mini DisplayPort
Headphone/microphone combo jack

45 Watt
Where to buy Dell XPS 13?
Dell XPS 13 compared to rivals
List of all laptops like Dell XPS 13. Compare tech specs of this model to its rivals to find out what notebook has better processor, video card, screen and battery life. That means that SpecsPRO can help you to select the best laptop for now easily! Just check the list of Dell XPS 13 comparison to its rivals and look for the notebook with the most powerful specs.
Cheaper alternatives to Dell XPS 13:
More expensive alternatives to Dell XPS 13:
Dell XPS 13 videos
It is very important that you watch a few Dell XPS 13 video tests and reviews from Youtube. Videos are the easiest way to receive full info about laptop's specs and performance which will help you to make a right decision in your purchase.
Dell XPS 13 reviews by users and experts
SpecsPRO offers you to get acquainted with useful Dell XPS 13 user reviews and tests by CNET, TechRadar and other experts. They can be very useful during the process of selecting a new laptop. If you already own the notebook please share your opinion and rate it. Dell XPS 13 rating will help greatly other users.
Have you already bought this laptop?
Rate Dell XPS 13 to help other customers!
Dell XPS 13 9370 (2018) Review

Avram Piltch, 2018-01-04

Pros

Attractive design
Vibrant screen
Strong performance
Goodbattery life overall
Runs cool

Cons

No USB Type-A Ports
Improved webcam still looks up your nose

Verdict: The Dell XPS 13 9370 offers strong performance, long battery life and a stunning screen in a chassis that's slimmer and more attractive than ever.

Read more

After three years of dominating 'best of' lists, Dell's 13-inch ultraportable gets a makeover.

Devindra Hardawar, 2018-02-03

There's a reason we've heaped praise on Dell's XPS notebooks over the past few years. They've always been gorgeous and capable machines, with near bezel-less screens that other computer makers quickly copied. Most importantly, they brought an air of refinement to the Windows laptop market -- something you could previously only find from Apple. Dell's latest XPS 13 continues that tradition of excellence, though there are some changes that might irk longtime fans of the lineup.

Dell's latest XPS 13 doesn't stray from the line's high standards. It's fast, slim and sturdy. Sure, the company didn't change much, but it didn't really have to.

Pros

Still gorgeous thanks to the InfinityEdge screen
A bit lighter and slimmer than before
Supports external GPUs
Display now supports HDR

Cons

You'll pay for the 4K display in battery life
No traditional USB ports or full-sized SD card reader

Overall, the XPS 13 remains one of the best ultrabooks on the market. It's fast, sturdy and sports a gorgeous screen. Dell didn't make any big changes to the design, but then again, it didn't really have to. When you've got something as good as the XPS 13 lineup, it's better to stick with what works.

Read more

Making the best laptop in the world even better

Joe Osborne, 2018-03-20

Moving the webcam position, adding facial login and a four-mic array, giving Intel's chips more headroom to perform even better and adding a 4K screen have all evolved the XPS into an even more formidable flagship laptop. In directly addressing the concerns of users, the Dell XPS 13 laptop is refined further than ever before.

FOR

Centered IR webcam
Gorgeous new design
Beautiful optional 4K display
Impressive performance

AGAINST

Steeper starting price
White option is pricier
Still gotta' move that webcam

Read more
Write your review
Dell XPS 13